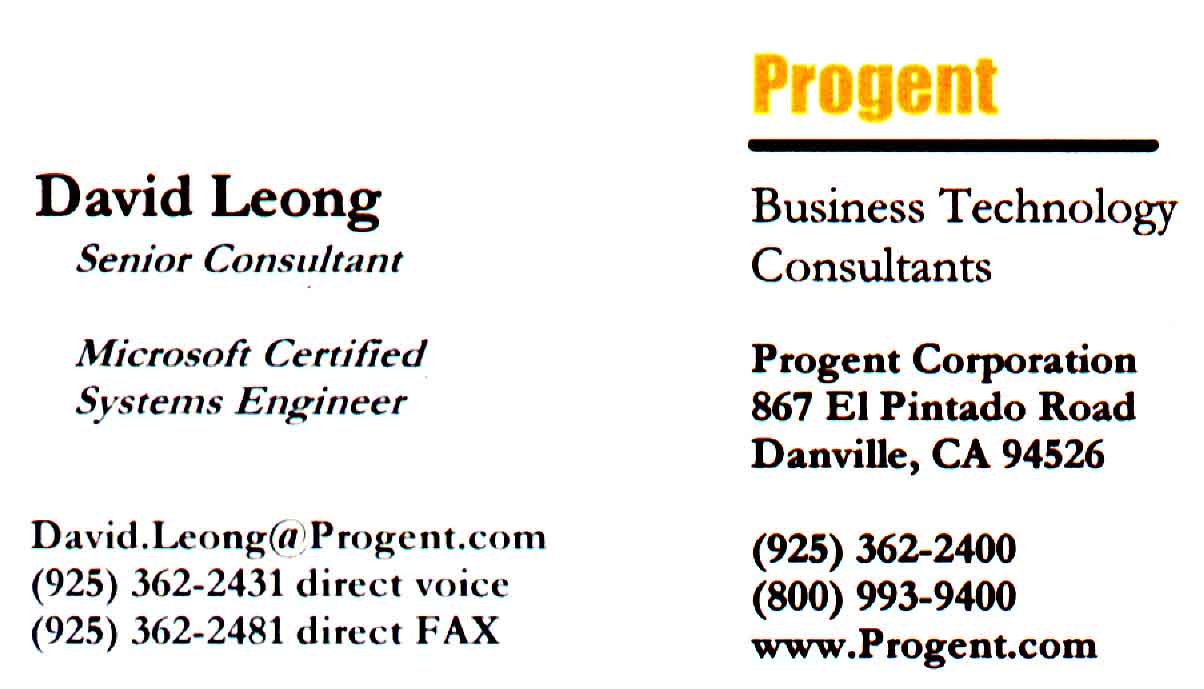 Welcome To David Leong's Home Page
About This Site
This site is mostly about Porsche Racing, Track, and Autocross pictures, plus Indycar, Sportscar, and even some F1.
Professional Information
I am a MCSE working for Progent. I work on a variety of projects including E-Mail, Servers, Internet Connectivity, cloud, LAN, WAN, Routers, Network Architecture, Implementation and Design.

Personal Information
I race with the Porsche Racing Club and Time Trial and Autocross with The Golden Gate Region of The Porsche Club of America. There are links to some pictures of recent events here. Take a look and let me know what you think david@dleong.org.
What's New
November 15, 2023 - Added Velocity Invitational Sonoma Raceway Nov 11-12, 2023
October 9, 2023 - Added Rennsport Reunion VII Sep 28 - Oct 1, 2023
October 3 22, 2023 - Added Whale Watching Monterey Bay October 2, 2023
September 22, 2023 - Added California Capital Airshow September 22, 2023
August 6, 2023 - Added Golden Gate Region PCA Club Racing and DE August 5, 2023
April 30, 2023 - Added Luftgekuhlt 9 April 29-30, 2023
November 7, 2022 - Added PCA Golden Gate Region Autocross November 6, 2022
October 6, 2022 - Added Fleet Week Thursday practice October 6, 2022
October 2, 2022 - Added California Capital Air Show October 2, 2022
October 14, 2021 - Added Fleet Week San Francisco October 10, 2021
September 26, 2021 - Added California Capital Air Show September 24, 2021
2020 - There are no photos from 2020 due to the Pandemic
December 21, 2019 - Added Cyclocross Racing December 21, 2019
November 3rd, 2019 - Added Cyclocross Racing November 3, 2019
October 27th, 2019 - Added Celebrating the life of Gary Walton October 26th, 2019
October 6, 2019 - Added California Capital Air Show October 6th, 2019
September 13, 2019 - Added Drivers of the 70s and 80s taken at Laguna Seca
August 5, 2019 - Added Lassen National Park August 3rd, 2019
Jun 24, 2019 - Added Golden Gate Region Porsche Club of America Autocross #4 Jun 23th, 2019
June 4, 2019 - Added Sonoma Festival of Speed June 2, 2019
May 19, 2019 - Added Hangtown Motocross Classic May 18, 2019
May 16, 2019 - Added Amgen Tour of California May 11-12, 2019
May 15, 2019 - Added Luftgekuhlt 6, Universal Studios Back Lot May 11, 2019
May 8, 2019 - Added Chinese Grand Prix April 12-14, 2019
Oct 8, 2018 - Added Rennsport Reunion VI September 27-30, 2018
Oct 3, 2018 - Added Whale Watching Monterey Bay October 1, 2018
Sep 25, 2018 - Added California Capital Airshow September 21-23, 2018
Sep 7, 2018 - Added IndyCar Testing at Sonoma Raceway September 6, 2018
Jun 20, 2018 - Added Golden Gate Region Porsche Club of America Autocross #4 Jun 17th, 2018
Jun 18, 2018 - Added Golden Gate Region Porsche Club of America Autocross School Jun 16th, 2018
May 21, 2018 - Added Amgen tour of California May 16-19, 2018
May 16, 2018 - Added Sly Park Wildflowers May, 2018
Apr 28, 2018 - Added Beale Air and Space Expo April 28, 2018
Mar 27, 2018 - Added Golden Gate Region Porsche Club of America at Thunderhill Raceway Mar 24-25, 2018
Mar 26, 2018 - Added Diablo Region Porsche Club of America at Thunderhill Raceway Mar 23, 2018
Feb 6, 2018 - Added IndyCar Testing at Sonoma Raceway Feb 5, 2018
Oct 7, 2017 - Added SF Fleet Week Thursday Practice Oct 7th 2017
Mar 16, 2017 - Added Amgen Tour of California May 11-14 2017
Mar 6, 2017 - Added Sacramento Valley Region of The Porsche Club of America Autocross #2 May 6 2017
Apr 21, 2017 - Added Patrouille de France Acrobatic Team at Mather Field Apr 15th, 2017
Apr 6, 2017 - Added IndyCar Testing at Sonoma Raceway Apr 4, 2017
Mar 4, 2017 - Added Sacramento Valley Region of The Porsche Club of America Autocross School Mar 4, 2017